James Flanigan
Monday, March 2, 2015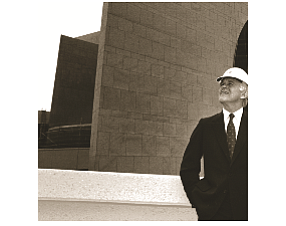 Henry Segerstrom was renowned, of course, as creator of South Coast Plaza and a patron of art and music.
Less known is his role as a public service pioneer of Orange County's development as a modern, cosmopolitan society.
Yet that was how he first made his mark.
The arc of Segestrom's enormous effect here began shortly after he recovered from wounds sustained in World War II. The young officer was treated at Dibble Memorial Military Hospital in Menlo Park, not far—who ultimately lost an index finger—from Stanford University, where he graduated in 1948.
Segerstrom returned to an Orange County landscape that didn't feature much more than farming. Henry's hometown of Santa Ana had fewer than 50,000 people, good for one-fourth of OC's population. Most of the land was undeveloped. The city of Irvine did not exist, nor did Costa Mesa.
Segerstrom immediately got involved in the stirrings of change, with his name put up as a candidate for the Federal government's Agricultural Stabilization Committee, which was to restore normal operations to farm holdings as the post-war era took hold.
"I didn't ask for that, I didn't seek it," Henry told me in an interview two years ago for his biography, "Henry Segerstrom and the Development of Orange County Society," which I wrote and his family now owns. "But I was nominated and got the highest number of votes. So I became chairman of the Stabilization Committee. And that is what put me into the political arena of Orange County and opened doors for many additional leadership roles in the county."
Henry would go on to help organize Orange County's transit systems and would lead the Orange County Water District for more than two decades.
But first he found opportunity with the transformation of the Segerstrom family farm, which had been converted to the Santa Ana Army Air Base and had housed 47,000 personnel during the war. The federal government sold a 76-acre chunk of the land, including a rail spur and some warehouses, back to the Segerstroms for roughly $100,000 the same year he returned from Stanford.
Warehouses
The family business was in the hands of Henry's father, Anton, and three uncles, Harold, William and Fred. The elder generation didn't really know what to do with the warehouse properties.
Henry had ideas.
"I talked to my father and uncles and asked if they would let me try to lease the warehouses," he recalled.
He struck a deal with a cannery on Newport Harbor, and another with frozen orange juice producers in the area.
One leasing transaction was different, and it served as a revelation about the postwar U.S. economy and a different future coming to Orange County. Henry leased warehouses to "a developer and manufacturer of stainless steel honeycomb core," a breakthrough technology product that was to be used for the skin of the B-58, a supersonic bomber for the U.S. Air Force.
"Exposure to this kind of technology led us to think of our family's future in different ways from our neighbors, who were still only in farming," he said.
That was about the time that Henry served as an usher at an Army friend's wedding in San Francisco and met and fell in love with Yvonne de Chavigny, a San Francisco debutante who was the daughter of a French mother and niece of a high-ranking aide to Gen. Charles de Gaulle.
Yvonne was—and is—an artist, painting in watercolors and other materials. She and Henry were married in Paris in 1950 by Pierre de Gaulle, who was mayor of the city and brother of the famed general. It was on that wedding trip that Yvonne introduced Henry to the Louvre Museum and he became aware and appreciative of great art.
The 1950s were a decade of prosperity, when Orange County's population trebled, thanks in large part to the completion of OC Santa Ana (I-5) Freeway, which opened the to large-scale residential development.
Many farm families sold their land to housing developers.
The Segerstroms did not.
The family had petitioned in 1950 to have their property declared the Segerstrom Industrial District, a zoning designation that would have required political approval from the city of Santa Ana, where there was opposition.
"Santa Ana political representatives said that all of our land should be residential," Henry recalled.
That would have meant greater tax revenue than industrial properties were likely to generate for Santa Ana.
Henry fought city hall and won.
"Because I had appeared before the board of supervisors on other occasions, they had confidence in my recommendations, and so we were able to get the zoning for the Segerstrom Industrial District," he said.
Most of the Segerstroms' holdings soon became part of a different city, called Costa Mesa, which the family helped create.
Indeed, the Segerstroms owned property in an unincorporated patch between Santa Ana and newly formed Costa Mesa in the 1950s.
"Both cities wanted to grow," Henry said, but the Segerstroms were reluctant to attach their land to Santa Ana, a major retail center for the region that could have presented a competitive difficulty for the Segerstroms' plans for one day developing a shopping center.
Ingenious Solution
Costa Mesa Mayor Alvin Pinkley came up with an ingenious solution. The new city of Costa Mesa needed a water supply, and the Segerstroms had developed deep wells on their farming territories.
If "Costa Mesa could lease water rights from us and thus develop its own access to underground water, compensation for those water rights would be equivalent to all the municipal taxes to be paid on the annexed property," Henry explained.
Segerstrom land became part of Costa Mesa—and its waters secured the city's continued existence.
Next came transportation.
In the early 1950s, Henry helped organize transit agencies for the county, bringing in bus lines. Decades later, he participated with other business leaders in efforts to pass Measure M, which imposed a half-cent sales tax to build roads.
"We were the first metropolitan area in the state to tax ourselves to build freeways, and we had to have the consent of the state Legislature; and we got that. And yes, we have been a community that has a reputation as being ultraconservative," Henry said. "But my interpretation of conservative is that Orange County believes in doing good things politically for the benefit of your community and its citizens. It wasn't blocking passage of progressive actions by government. It was instead encouraging private enterprise to work with the public agencies to get things done—and we did."
Henry was elected to the Orange County Water District for a four-year term beginning in 1957 and re-elected six times after that for a total of 28 years—16 of them as president.
Water is critical, of course, to the development of Southern California and much of the American West.
Water was a constant problem for Orange County during his tenure. A drought began in 1945 that lasted nearly a quarter century. Groundwater levels in many areas of the county dropped by 1950 to as low as 15 feet below sea level.
"We were very much concerned in the late 1940s when the extraction of water had begun to lower the water table," Henry said. "We looked at Huntington Beach, where along the coast there is a rock ledge that had been holding salt water out of the fresh-water basin."
If salt water ever came into that basin, it would contaminate and destroy it as a resource for drinking or agriculture, he said.
"So it was conceived that we would drill some wells along the coast and inject water into those wells to build a pressure barrier to keep the water away from contamination," he said. "It was a very successful program."
Efforts to ensure the water supply came as uses were changing dramatically, reflecting the development of the county.
"When I accepted my first position on the Water District," Henry said, "90% of the water supplied in Orange County was used for agriculture. When I left the board 28 years later, 10% was used for agriculture."
Then, in an afterthought, he added: "I've done a lot of things in my life, but there is nothing that has given me more satisfaction than my activities in the water district."
Changes
A lot changed for the Segerstrom family in the 1950s. Henry's uncles, William and Fred, died of cancer, passing in 1954 and 1955, respectively. Henry recalled that the family "had to pay estate taxes on 50% of our holdings."
They had to effectively sell 30% of their entire holdings to meet the tax bill. The surviving brothers, Anton and Harold, managed it through a trade of land with Los Angeles developer John Kilroy.
The changes led Henry to spot an opportunity to gain equity in the family company.
"I had come into the business in 1948; (I was 25 years old)," Henry recalled. "And I wanted to get some equity in the firm. So I proposed that I would buy my father's inheritance interest from his two brothers, and I would pay him the market value that the federal government established in assessing the inheritance tax."
"In effect, that would mean that my father would be selling at cost, that is, making no gain in selling to me," Henry explained, "and I would buy on credit. It was the key to my entering the business, and it was not by gift; it was by purchase."
The following year, his lone surviving uncle, Harold, employed the same technique to bring his son—also Henry's cousin, Harold Jr.—into the company. Ownership of C.J. Segerstrom & Sons was then vested in Henry, Harold Jr. and their spouses.
In the next decade, children of Henry and Harold and their wives, Yvonne and Jeanette, would become owners and partners through similar transactions.
Meanwhile, the growing Orange County economy was sending the Segerstroms signals.
In 1955, "we had an opportunity to buy some land in our area—it was going for $4,500 an acre," Henry said. "But that was at a value that you couldn't make money farming."
His thoughts and those of his family moved to real estate development.
"Santa Ana was growing very rapidly, and the city fathers decided to build a new library," Henry recalled. "And the Andrew Carnegie Library in Santa Ana was offered for sale. So being Santa Anaians, we bought the library, tore the building down, and decided to build an office building."
A United California Bank building in Santa Ana was completed in 1962—"the first fully air conditioned office building in Orange County," Henry pointed out.
Orange County's population would double in the 1960s to 1.4 million, just under half of what it has become today. The large department store chains—Sears, May Co., Federated Department Stores, Broadway Hale Stores and others—were organizing shopping malls. Henry Segerstrom met with John Wadham, the Western real estate manager for Sears, in late 1962. Wadham said that his company had just completed a shopping center in Buena Park, 22 miles north and east of Costa Mesa, and asked whether the Segerstroms would be interested in working with Sears to build a new center.
"I don't know what got into me," Henry said, "but I looked at him and said, 'Well, Mr. Wadham, if we couldn't do better than Buena Park, then I don't think we would be interested.' So we started our conversations."
Sears then asked May Co. to join them in the proposed Costa Mesa center.
Yet the major retailers and Henry were not really on the same wavelength. The retailers, as Henry put it, calculated that a store would be built to serve a primary market area of 25 or so miles in any direction.
The Segerstroms wanted to do their own planning. They hired a land development economist who projected that the market was growing fast and that they could build a first phase and expand five years later.
"So instead of doing that, we built an extra 100,000 feet and figured it was a good investment," Henry said.
Air Conditioned
He also had the architects design an air conditioning plant for the entire center.
"I believe we're the first major retail center in America to use central plant air conditioning," Henry said. "It took a larger investment originally, but the payoff over the years has been fabulous."
The building of South Coast Plaza went forward in some sorrow as Henry's father, Anton, died of cancer in 1963, at age 72. His widow, Ruth, became co-managing partner of the family company along with her brother-in-law Harold Sr.
"I think that my mother was one of our finest business heads in her good judgment," Henry said.
Ruth worked from that point almost to the end of her life, at age 99, in 1997.
South Coast Plaza opened in 1967 when the economy was less than vibrant as the Vietnam War dragged on the national and local economy. Henry and his marketing director, Werner Escher, reached for ideas to give the center a spur, events such as a Festival of British fashion and merchandise. That led over years and decades to make South Coast Plaza a global showcase, ultimately fulfilling another vision of Henry's: borderless marketing.
"If we are going to make this South Coast Plaza successful," Henry said at the time, "it has to be looking further than the neighborhood. It has to look at the whole Pacific Rim."
Today, more than 30% of South Coast Plaza's customers come from outside Southern California, and as many as one in five come from abroad.
Success in business and then cultural development followed, including the remarkable feat of Orange County families raising $143 million in the early 1980s to build the Orange County Performing Arts Center. Henry and the Segerstrom family donated $6 million for the Center, now named the Segerstrom Center for the Arts.
Setbacks
There were some setbacks along the way, including a reversal to family plans in the late 1980s as Henry and C.J. Segerstrom & Sons tried to create a development of office buildings, shops and hotels on land of their Home Ranch, the Fairview Road site of the original 1915 farmhouse where Charles John and Bertha Segerstrom raised their family.
Construction began in 1988, but prosperity had brought changes to the area. Now there were many housing developments and residents who forced a referendum on the Home Ranch project. A November 1988 vote went 3 to 2 against the project. A portion of the site closest to the original farmhouse is still being farmed for lima beans today.
A decade ago, in an interview with an oral history project at California State University-Fullerton, Henry said the defeat taught him a lesson.
"When one is blessed to have land in a vibrant community, and you decide you'd like to utilize the land for a commercial purpose or residential purpose, you find out that you really have only the rights of a trustee and that you have very little unilateral control over what you can do with your land," he said.
In fact, after the Home Ranch defeat, Henry and the Segerstrom family company instituted a process they called "development entitlement," which basically involved owners and the community in negotiations.
The family would provide Costa Mesa with schools, utilities, and other infrastructure in exchange for future approvals of various developments.
Henry moved forward with major office buildings, such as Plaza Tower, Park Tower and Center Tower near the Performing Arts Center, along with many other developments.
He also took a hand in some prominent companies in the larger Southern California region, including Southern California Edison, now Edison International, where he became a director in 1988.
"That was the beginning of business directorships that opened my eyes to broader themes, to think beyond Orange County to the larger world," Henry said.
He also served on the board of Security Pacific Bank and then Bank of America, which acquired Security Pacific in 1992.
Yet nothing diminished his attention to detail at South Coast Plaza, where he walked the halls every day. Terry J. Lundgren, who today is chief executive of Macy's Inc., recalls his job in managing a Bullocks store in South Coast Plaza in 1980.
"Henry came to me my first day in the store and asked if there was anything I needed," Lundgren said. "I told him that my store had the second-highest gross sales in the Bullocks chain, and he asked me, 'When will you be number one?' "
The 1990s saw the passing of Harold Jr., co-managing partner in charge of the agricultural side of the C.J. Segerstrom & Sons business who succumbed to a heart attack in January of 1994 at 65. His wife, Jeanette, stepped into the managing partner role until her death at age 72 in 2001. Their daughter Sandra Segerstrom Daniels is the current co-managing partner of the company, along with her sisters, Susan Perry and Sally Segerstrom, and her brother Ted Segerstrom.
HTS Management
Harold Jr.'s children have incorporated their partnerships in the HTS Management Co., which is named for their father, Harold T. Segerstrom.
Renee Segerstrom, whom Henry married in 1982, the year following his divorce from Yvonne, died in June 2000 as a result of complications of cancer.
"She was a rare partner in life, full of joy and spirit," Henry said in a eulogy.
On a subsequent trip to New York, he was dining one evening at the St. Regis Hotel and met Elizabeth Swiecicka Macavoy, a clinical psychologist who had been divorced for a decade. They soon decided to marry.
Henry told friends that he was understandably lonely after Renee's death, but more than that, "I didn't think I would ever have a love like this again. From the first night that I met Elizabeth, I thought I'm not going to let her get away," he said.
In the next decade and more, they brought Segerstrom Center to new heights of music and art. And Henry oversaw a $40 million investment to renew the furnishings of South Coast Plaza.
In his Essay on Self Reliance, the great 19th century philosopher Ralph Waldo Emerson said, "Every institution is the lengthened shadow of one man."
Henry Segerstrom deflected such compliments. He spoke of Orange County's growth the way a farmer might, as one who brings forth from the soil the inherent strength of what is there.
"Opportunities come with population growth, opportunities never available for small communities," Henry said in a quiet moment recalling the formative years of his family's business and Orange County. "I think of phases or accomplishments of my life. Orange County needed to grow, whether with flood control, schools, sanitation, roads, water. I have been involved in all those things, and I think if I hadn't been there on some of them, that they might not have gotten done or would have gotten done in a different way."
James Flanigan, a longtime business journalist with the New York Herald Tribune, Los Angeles Times, Forbes and other publications, wrote a biography of Henry Segerstrom that is owned by the Segerstrom family.